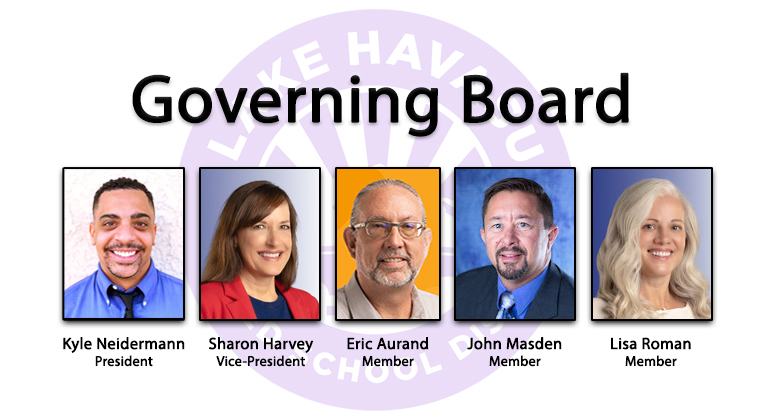 The Governing Board is the policy-making body of the school district. It has the authority and responsibility to provide an educational program for students living within the district but must work within the framework of State and Federal law.
A board member's first and greatest concern must be the educational welfare of the students attending the public schools.

(view Arizona's Open Meeting Law)

Monthly Governing Board meetings are held on the third Tuesday of each month, at 6:00 p.m., in the Boardroom at the District Office.
The Lake Havasu Unified School District # 1 endeavors to ensure accessibility of all its programs, facilities, and services to all persons with disabilities. If you need reasonable accommodations, please contact Leanea Gordon as early as possible.

Members of the Lake Havasu Unified School District Governing Board will attend either in person or by technological devices such as speakerphone, internet, or other devices.
When necessary, the Board may vote to go into Executive Session intermittently throughout the meeting, which will not be open to the public, for discussion and consultation for legal advice regarding any of the agenda items (A.R.S. § 38-431.03 (A)(3)). The Board may also vote to go into Executive Session, which will not be open to the public, to discuss personnel matters (A.R.S. § 38-431.03(A)(1)), records exempt by law from public inspection (A.R.S. § 38-431.03(A)(2)), or for legal advice and consultation regarding pending or contemplated litigation (A.R.S. § 38-431.03(A)(4)). The Board reserves the right to change the order of items on the Agenda and to call matters in random order.
Meetings of the Governing Board may be audio or video recorded, which may result in the audio or video recording of a minor child. Pursuant to A.R.S. 1-602(A)(9), subject to certain express statutory exceptions, parents have a right to consent before the State or any of its political subdivisions make a video or audio recording of a minor child. In order to exercise their rights, parents may either file written consent with the District, consenting to such recording, or take affirmative steps to ensure that their child is not present when a recording may be made. Should the child be present at the time a recording is made, this right will be considered to have been waived.
A visitor may speak to the governing board during the Call to the Public.
(see Policy 1-302 - scroll down to Public Participation in Board Meetings section)
In normal situations, visitors are requested to keep their remarks as concise as possible.
Board Meeting notices are posted at least 24 hours prior to a meeting at each school location (see directory) and on the district website.

Board meeting notices are sent at least 24 hours prior to a meeting to these news outlets.
KJJJ Radio Station
1845 McCulloch Blvd.
855-9333
Mohave County Library
(Lake Havasu City)
1770 N. McCulloch Blvd.
928-453-0718
Today's News-Herald
2225 W. Acoma Blvd.
855-2637
The Northwest Arizona Employee Benefit Trust ("NAEBT"), to which Lake Havasu Unified School District #1 is a member, posts it meeting Notices, Agendas and Minutes on the NAEBT website, which can be found at https://www.naebt.org.
NAEBT meetings are open to the public.
Governing Board members may attend district and city/state-wide events throughout the year. However, no school board business will be discussed and no action taken.
School / PTSO / PTA events
District Athletic events
Graduation ceremonies

Lake Havasu City Chamber events

Community events

Arizona School Board Association (ASBA) events



LHUSD uses BoardDocs to provide agendas, minutes, supporting documents, and video links.

Regular Meeting:
Nov 21, 2023
ARCHIVED
Meeting Documents and Videos