LHUSD Employee Benefit Trust
The Lake Havasu Unified Employee Benefit Trust oversees employee benefits such as, but not limited or restricted to Life, Accidental Death and Dismemberment, Weekly Income, Long Term Disability, Basic or Major Medical coverages for accidents or sicknesses, dental, vision and any other benefits as determined by the Trustees for employees and their dependent families; whether through self-funded or insured programs or both. The Trustees shall have the power to enter into contracts, procure insurance policies, or provide such benefits through self-funding, and to place into effect and maintain the desirable Schedule of Benefits.

Employee Benefit Trust meetings are open to the public.
Until further notice, we will be enforcing the CDC's and the Mohave County Health Department's recommendations of "Prevention Strategies to Reduce Transmission of SARS-CoV-2 in Schools", including the use of masks and physical distancing.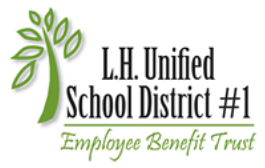 Marcia Cox
Chairman
(term expires 6/30/22)

to be appointed
Vice-Chairman

Amy Barney
Trustee
(term expires 6/30/21)

Stephanie Lueras
Trustee
(term expires 6/30/23)

Julie Sasseen
Trustee
(term expires 6/30/21)

Agenda, Minutes, Reports, and Videos
Any content prior to 2017 can be viewed at the LHUSD District Office.
Content for the latest meeting may be updated several times in the days after the meeting. Use your browser's refresh button to make sure you are viewing the latest content.
Minutes of past meetings are usually posted about one month after the meeting date. Some meetings or portions of meetings are held in executive session and no public record is available.