The mission of Lake Havasu Unified School District is to nurture academic excellence and improve student achievement among all students.
The Lake Havasu Unified School District recognizes that gifted students have unique educational needs and is committed to enabling them to develop their extraordinary abilities.
Gifted students are gifted all day, not just for a small segment of that day.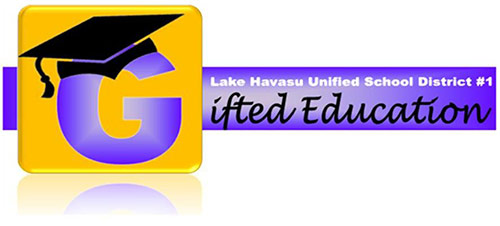 2021-2022 LHUSD Gifted Testing
The Spring Gifted Testing nomination window is open until April 29, 2022 for all students currently enrolled in grades 3-5.
All students within LHUSD or any local education association (LEA) may be recommended for gifted screening by parents, guardians, teachers, school administrators, counselors, support staff, or other community members.
Students are only eligible to test once per year. Results will be used for gifted eligibility for the 2022-2023 school year.
Starline Elementary hosts LHUSD's gifted services for students in grades 4-6.
Program Goals
To meet the individual needs of gifted students
To prepare students for higher-level educational opportunities
To enhance curricula and provide learning experiences that meet the needs and nature of gifted learners
To nurture and stimulate critical, creative, and intellectual curiosity
To encourage citizenship and leadership development
To provide students and parents with educational opportunities to support the social and emotional needs of gifted learners
To provide students with experiences that involve planning, interpreting, finding, evaluating, and using information
To provide experiences for students to communicate information, ideas, and solutions clearly, succinctly, and accurately


Schools Providing Gifted Services

Starline Elementary School, Thunderbolt Middle School and Lake Havasu High School