On-site Support Services provided at schools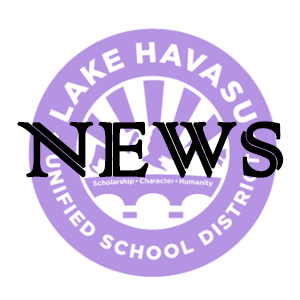 ---
by Daisy Nelson, Today's News-Herald
Aug 18, 2020
USED WITH PERMISSION
While Lake Havasu Unified School District students didn't return to classrooms on Monday, nearly 600 families were expected to send their children back to school to take advantage of on-site support services.
By executive order, Gov. Doug Ducey required all state schools offer free "on-site learning opportunities and support services" by Aug. 17 for students who need special instruction or a place to go during the day.
That doesn't mean they're being taught in-person by a teacher. Instead, they are being supervised at the school while they continue to work on their online classes and other learning activities. In Havasu, 576 families had signed up for the on-site services, according to statements by administrators at the Aug. 11 school board meeting. Several attempts by the News-Herald to contact district administrators for updated enrollment numbers weren't immediately returned by Monday evening.
Schools used parent surveys to determine their needs. At Starline Elementary School, the on-site support services are available to students who require individualized education plans, like English language learners or those with special needs, and children of essential workers.
Students' schedules are handled on a case-by-case basis, Principal Corey Triassi said. Some kids will use the program five days a week, all day, while others may only need to use it for one part of the day, or a few days a week.
At Starline Elementary School, 103 kids are signed up for on-site support, and 57 of them arrived on Monday morning for the first day.
They were checked in by a team of teachers and staff, who made sure they were registered, had a device for their online classes, and had a face mask to wear throughout the day. Donated face masks were available in case a student was without, and devices are provided by the school to students who don't bring their own.
Each grade level has a different common area of the school that they meet in, Triassi said, such as the gym, library, and computer labs. This allows for social distancing, and keeps teacher classrooms "sacred" so they can continue with their distance learning responsibilities, she added.
"It's hard because the teachers want to help them," Triassi said, but the focus is on supervision, not instruction.
Teachers helped provide some educational materials for students, such as puzzles or building blocks to use throughout the day. Library books can also be checked out, and the physical education teacher built activity bags for students to use in a contained area.
Each grade is supervised by one of Starline's paraprofessionals, who monitor students to make sure safety guidelines are being followed and to assist with any questions or needs. Students are required to wear a face-covering during school unless they have a medical condition, Triassi said. She also allows students to take a break from their masks if they are spread far apart, in areas like the gym, or eating.
A team of paraprofessionals also assists and supervises Starline's special needs program.
Meals are provided throughout the day, and students can be picked up as early as 2 p.m. Parents were given signs with their student's name to place in their car window when they arrive. Staff members then radio to the gym to notify the student, where they're waiting with their classmates to be picked up — and avoiding the heat.
Triassi said Starline's on-site support has a waiting list. After this first week, the school will reach out to families who are signed up but haven't used the program to fill their spots with waiting families, as needed.
As of Friday, Starline has 540 students enrolled for the 2020-2021 school year. That's down from last year's enrollment of 634.
"It's because right now, some of the parents have opted to go other routes, just because we haven't officially started," Triassi said. "They just want their kids to start. But we think as a school, and the district does believe this, too, that once we start back up, we're going to see a lot of those kids come back. A lot of them have said we love being in the district, we love being at Starline, love our teachers here, but everything's so unknown."
Triassi added that they understand their concerns, and the school is trying to support them wherever they can.