K-6 Counselor's Workshop for Parents - using Toolbox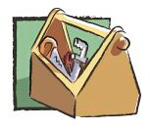 ---
Helping Children Manage Emotions Using Toolbox
Please join elementary counselors Susie Martin, Marti Miller and Sara Chandler as they share how you can use the Toolbox curriculum with your children at home.
This curriculum was purchased by the Lake Havasu Unified School District to meet the Arizona social and emotional competencies for students in kindergarten through sixth grade.
It is based on 12 tools that anyone can use to improve managing emotions and social relationships.
ZOOM Meeting information
January 28th, 2021 5:30 - 6:30 p.m.
Please use the link below to attend via Zoom: https://zoom.us/j/94815396678?pwd=aGhHcjdHaFBuQ2kyeTJ0TWtjclU5UT09
Meeting ID: 948 1539 6678
Passcode: 3wyn11