District seeking substitute teachers for this upcoming year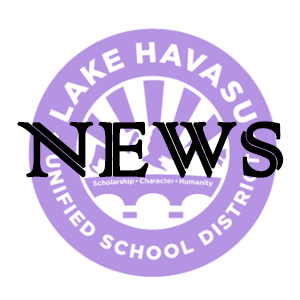 ---
by Daisy Nelson: Today's News-Herald -
Aug 27, 2020

USED WITH PERMISSION
As Lake Havasu City schools prepare for the return to classrooms and continue to navigate the new virtual teaching format, substitute teachers are as necessary as ever.
Lake Havasu Unified School District is always looking for more substitutes, district personnel director Jaime Festa-Daigle said, but there could be an even greater need for them this school year amid the pandemic.
"Ensuring that we have adequate coverage for students is imperative for school safety," Festa-Daigle said in an email. "It is important that we have the correct number of qualified teachers to work with students in each class."
The U.S. Department of Labor's Families First Coronavirus Response Act gives additional protections to staff through emergency COVID-19 leave, such as guaranteed paid sick time, and the school district is required to comply with those protections, she explained. The district also has to ensure compliance with health guidelines regarding quarantining when necessary.
"All of this impacts staffing when we have students on campus," Festa-Daigle said.
According to a teacher survey from the latest school board meeting, about 70 teachers across all grade levels said they didn't feel safe fully returning to in-person learning at the time the survey was taken. That's about 25 percent of the district's teaching staff, according to Superintendent Dr. Rebecca Stone, which would have a significant impact on a large number of students.
The district also has 14 job openings for certified positions and 14 openings for classified positions posted on their website as of Wednesday afternoon. Some positions include Spanish teachers, a middle school teacher, assistant coaches, a nurse, and personal care assistants, to name a few.
As of Friday, the district has 45 certified substitutes that can fill in for teachers, and 23 classified substitutes that can help with paraprofessional or custodial absences, according to Festa-Daigle. They recently participated in a sub orientation in July to help prepare them for the school year ahead.
"We have a great substitute pool," Festa-Daigle said. "In the past few years, we have hired more and more of our substitutes for full-time positions."

She added that substitutes are typically easier to find during the winter months rather than the beginning or end of the school year, and a number of subs work a few days each week. Substitutes also have their own preferences for grade levels and schools they assist with, and there are times the district runs into a substitute shortage.
When that happens, principals and other teachers will work to fill in the gaps, Festa-Daigle said.
"We have a number of teachers already teaching extra classes at the high school because of shortages in specific hard-to-fill areas," she said.
Substitute teachers are required to have bachelor's degrees to apply for certification through the state Department of Education, and applications are handled by Educational Services, Inc., the district's substitute contractor. Classified substitutes can simply apply through ESI, accessible at lhusd.org/substitutes. All substitutes are fingerprinted and background-checked. Those interested are urged by Festa-Daigle to contact the district for any questions by calling 928-505-6900.
"It takes a bit of time to hire staff working with children," she said, but "subbing is a wonderful way" to help the district have a successful school year.