Jaime Festa-Daigle to take on new role as Director of Student Achievement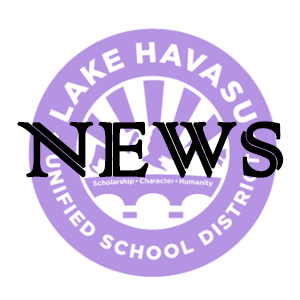 ---
Jamie Festa-Daigle has taken on a new role at Lake Havasu Unified School District.
At this week's special school board meeting, LHUSD Superintendent Rebecca Stone recommended to the governing board that they appoint Festa-Daigle to the position of director of student achievement. The board unanimously approved the recommendation.
The director of student achievement position is not a new role in LHUSD but a renaming of the former director of educational services position. The official function from the job description of the rename role is "to provide leadership in the development, implementation, coordination and evaluation of all educational programs of the district to improve student achievement and instructional practice."
"In short, the position will oversee and support curriculum and instruction, professional development, and data and assessment," Festa-Daigle explained.
Taking on the new role means she will be leaving behind her duties as the district's director of personnel and technology, which she believes is the right move for her but a bittersweet one.
"Leading the personnel and technology teams has been really amazing and I will really miss the work I get to do working with all staff, but making sure LHUSD is the best school system for all children is near and dear to my heart," Festa-Daigle said.
She said the district will seek her replacement soon.
Looking ahead to her new role, Festa-Daigle will be working on implementing a new curriculum in the district. Next year, the district is set to roll out the Core Knowledge curriculum for students in preschool through eighth grade.
"We have a lot of work ahead of us to support teachers to ensure this implementation is successful," Festa-Daigle said. "Our students will have a strong foundation in language arts, math, science, history, and geography. We need to continue that work in high school."
Along with work on curriculum, Festa-Daigle also wants to continue work with community partners to help expand internship opportunities and dual enrollment at the high school.
"Most importantly, making sure that every student in LHUSD receives an excellent education, no matter their school, their teacher, or their background is very important to me," Festa-Daigle said.
Other than helping all LHUSD students receive the best education possible, Festa-Daigle is looking forward to getting to spend more time on campuses and classrooms in her new role as director of student achievement.
used with permission
Article by Joey Postiglione, Today's News-Herald
Apr 6, 2021